Rubber Injection Molding Machine - Direct Clamping
JD-RH series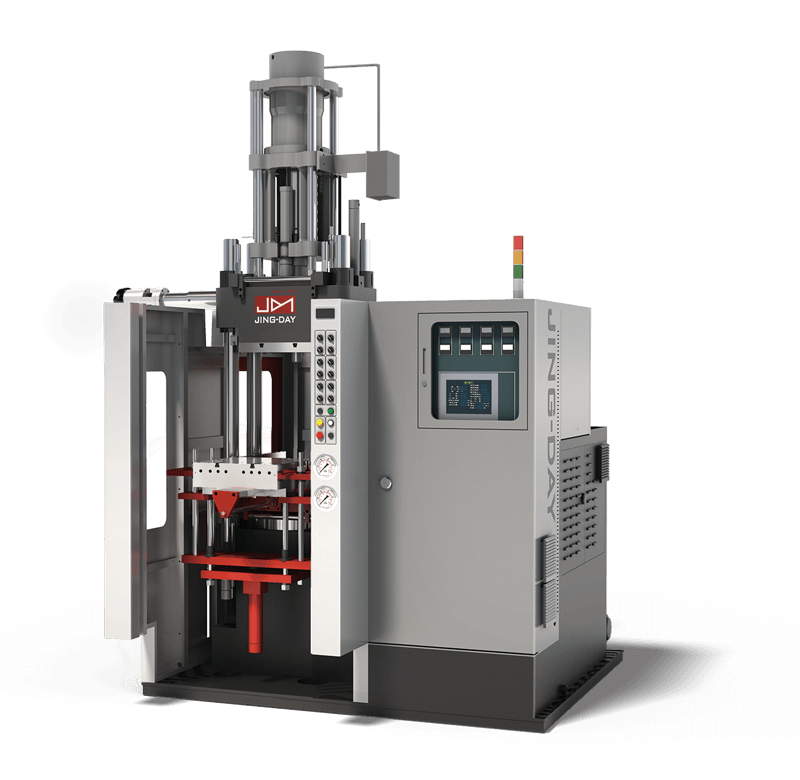 BACK
Features
Ideal for the production of natural & synthetic rubber, oil & heat resistant rubber, and reclaimed rubber.

High bed structure.
PLC equipped with standard PLC controller.
Machine for natural, synthetic, oil-resistant, heat-resistant, and reclaimed rubber.
High bed structure with direct clamping.
PLC and HMI functional control as standard specification.
Direct and indirect clamping structure.
Specialized nozzle design to prevent material overflow.
Specialized feeding device.
APPLICATIONS
Description
The JD-RH Series Direct Clamping Rubber Injection Molding Machine is a specialized piece of equipment used in the manufacturing of rubber products. This machine is designed to inject molten rubber into a mold under high pressure, creating a precise and accurate product. The Direct Clamping feature allows for the mold to be securely clamped in place during the injection process, resulting in a superior product with consistent quality.
Composition
Human Machine Interface: Data is all displayed on the machine, including temperature control, pressure curve diagram, a flexible mechanism using function selection, freely setting production parameters and adjustment, self-programming mechanism action flow, production parameter setting memorize, and quick parameter setting selection.
Injection system: The injection unit uses a hydraulic direct drive in 3 stages of pressure and 4 stages of flow. the material can be forced directly. This enables faster processing and stability for a variety of extended applications. The shot volume control by position transducer can have a very distinct output making it suitable with 0.7% tolerance accuracy.
Charging unit: The automatic temperature control by heating oil. Stable temperature control for feeding area and material.
Material alarm device: This device can check if there is any material (rubber stip) and the alarm will sound when the material is either cut off or has finished.
Integrated hydraulic circuit: The hydraulic circuit system is designed with proportional and pressure valve control to provide excellent operating performance and highly precise products.
Auxiliary double-cylinder: High-speed movement design, reduce cycle time, and increases production quantity.
Temperature control device: The temperature control by PLC and SSR system. Ensure that screw feeding and charging area temperature is stable. preventing material vulcanization in the area.
Safety screen: Use REER as the leader in Italy's optoelectronic safety sensor manufacturing. The infrared beam is used to detect the operator or object to ensure the safety of the operator and the machine. Depending on the operation of various types of machines, select. ing or performing different functions through the security interface, single or multiple beam detection can be used to satisfy most of the requirements or select various functions.
Outside ejector: This device allows the mold to be separated, and can facilitate the function of removing or automatically ejecting the finished product, or flipping the mold as per user requirements.
Core ejector: For multi-layer template design, the middle and upper sections of the mold can be fixed to this device.
Lower platen sliding device: This device provides the convenience of the placement of raw materials and the removal of finished products. The device has been heating treated to increase service life.
Video
Specification
Model
JD-RH 65T
JD-RH 150T
JD-RH 200T
JD-RH 260T
JD-RH 300T
JD-RH 400T
JD-RH 500T
JD-RH 800T
Shot Volum
c.c.
300 / 500
500 /1000
1000 / 1500
1500 / 2000 / 2500
2000 / 2500 / 3000
2500 / 3000 / 4000
3000 / 4000 / 5000
7000 / 10000 / 12000
Injection Pressure
kgf / cm²
1600
1600
1600
1600
1600
1600
1600
1600 / 1100 /1100
Injection Cylinder Pressure
kg / cm²
150
150 / 140
140 / 150
150
150 / 150 / 140
150 / 140 / 170
140 / 170 / 150
150
Injection Rate
c.c. / sec
65
65
70 / 75
100
100 / 100 / 120
160 / 150 / 180
150 / 180 / 160
270 / 380 / 380
Screw Diameter
mm
32
45
45
45
45
45
50
65
Strip Dimension (T x W)
mm
6 x 30
10 x 60
10 x 60
10 x 60
10 x 60
10 x 60
10 x 60
10 x 60
Clamping Force
ton
65
150
200
260
300
400
500
800
Plate Size
mm
350 x 380
360 x 510
480 x 500
550 x 620
520 x 580 / 520 x 800
580 x 620
600 x 650
650 x 730
650 x 730
800 x 900
800 x 850
800 x 1000
Piston Diameter
mm
200
310
355
400
430
500
560
700
Piston Stroke
mm
380
420
560
480
560
420
600
600
630
700
800
Space Between Tie Bar
mm
430 x 200
550 x 300
575 x 210
675 x 365
645 x 275
660 x 350
695 x 295
795 x 455
780 x 440
970 x 580
915 x 485
1110 x 630
Oil Hydraulic System
HP
7.5
10
15
20
20 / 20 / 25
30 / 30 / 40
30 / 40 / 40
50
Hot Oil Cycling Motor
kw
0.5 * 2
0.5 * 2
0.5 * 2
0.5 * 2
0.5 * 2
0.5 * 2
0.5 * 2
0.5 * 3
Platen Heating Capacity
kw
7.6
10
15
20.8
20
21
25
25.8
25.8
35.6
35.6
Steam / Coal Oil
System Pressure
kg / cm²
210
210
210
210
210
210
210
210
Oil Tank Capacity
liters
250
360
370
470
560
600
890
1000
Machine Dimensions
mm
1300 x 900 x 2850
2550 x 2000 x 2450
2550 x 1880 x 3880
2830 x 2000 x 3940
2950 x 2070 x 3890
3120 x 2600 x 4160
3050 x 2700 x 5190
3040 x 2390 x 4080
3040 x 2390 x 4080
3420 x 2780 x 5520
3240 x 3630 x 5520
3700 x 3640 x 6930
Machine Weight (Approx)
kg
4100
5500
6200
6500
8000
8100
8600
11000
11000
12500
14500
15580
Mold Installation & Heating Plate Dimension

Model
JD-RH65T
JD-RH150T
JD-RH200T
JD-RH260T
JD-RH300T
JD-RH400T
JD-RH500T
JD-RH800T
Stroke / Dimension
380
420
560
480
560
420
600
600
600
630
700
800
A (mm)
350
450
480
550
520
580
600
650
650
800
800
800
B (mm)
380
510
500
620
580
620
650
730
730
900
850
1000
C (mm)
610
780
800
930
910
930
960
1060
1060
1290
1270
1470
D (mm)
150
150
200
200
200
200
200
200
200
300
300
400
E (mm)
-
-
300
300
300
300
400
400
400
500
500
600
F (mm)
90
120
120
120
135
135
145
145
145
200
200
250
G (mm)
13
18
18
18
18
18
18
18
18
18
18
18
H (mm)
21
25
25
25
25
25
25
25
25
25
25
25
I (mm)
10
10
10
10
10
10
10
10
10
10
10
10
J (mm)
11
12
12
12
12
12
12
12
12
12
12
12
K (mm)
430
550
575
675
645
660
695
795
780
970
915
1100
L (mm)
200
300
210
365
275
350
295
455
440
580
485
630
M (mm)
100
100
100
100
100
100
120
150
140
140
150
200
N (mm)
70
80
86
86
95
95
100
100
100
100
120
110
O (mm)
390
490
520
620
580
620
640
720
720
880
855
880