The Best Customized Rubber Injection Machines for Automotive Parts and Components
2022/10/15
BACK
According to rubber industry studies, it is expected that the rubber injection machine market will have moderate growth during the present time to 2027. This is due to the changes occurring in the market, such as the fast production of rubber products, minimum wastage of material, low labor cost, and flexibility in material, color, and design.
Rubber is one of the most commonly used materials for modern automotive parts. Because of the convenience and ease of processing, rubber parts have become the favorite of automobile manufacturing companies. This being said, Jing Day is one of the key players specializing in the manufacturing of rubber and silicone molding machines and related solutions. However, their expertise has led them to achieve trust and brand awareness.
One of Jing Day's strengths is their ability to customize their machines to meet any type of client or production scale. Since their machines are capable of being customized for different kinds of industries, they offer solutions to businesses specialized in automotive parts, medical supplies, sports goods, electrical appliances, and any other rubber industry parts.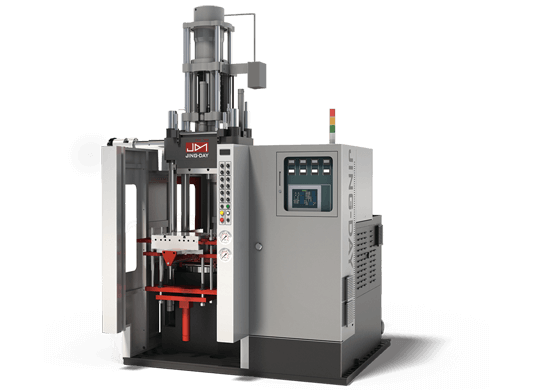 JD-RH Series - Rubber Injection Molding Machine (Direct Clamping)
It has been the case that some of Jing Day's clients have requested customized OEM rubber parts, as for this through Jing Day's expertise and extensive resources have allowed them to provide OEM solutions according to customers' demand for design and packaging.
In terms of Automotive rubber components, Jing Day Rubber Industrial offers a vast range of components complying with international standards CE, such as Rubber Washers, Rubber Grommets, Rubber PVC Beadings, Rubber Plugs and Caps, Rubber Tires, Bellows, O-Rings, and many more.
Competitive advantage over competitors
High accuracy, which can reduce the defect rate of client products.
Expertise and Ability to customize client's machinery needs.
Prompt and Effective after-sales service.
Experienced R&D team to make suitable equipment in line with clients' operations.
Reduce unnecessary costs, such as power consumption, labor, and material waste.
Zero Carbon Emissions
Due to the global mission to reduce carbon emissions, Jing Day has committed themselves to reducing carbon emissions upon their machines. In this way, Jing Day has developed an all-electric thermoforming machine, which is in line with the purpose of saving energy and reducing carbon emissions.
This All-Electric Thermoforming Machine provides features like:
No leakage and pollution.
Energy-efficient and green energy usage.
Low machinery noise.
Formwork structure with high rigidity and low deformation.
Low failure rate.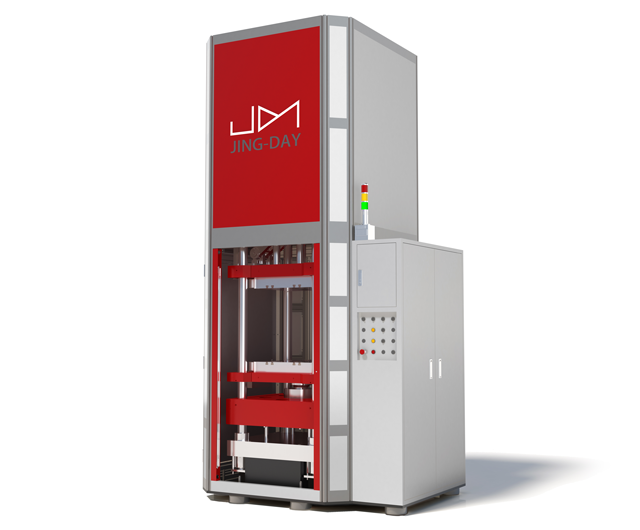 JD-EH Series - All-Electric Thermoforming Machine
This machine works without the usage of hydraulic fluids, meaning there is no presence of oil seal aging and oil leakage, and it will not cause environmental oil and gas pollution.
In terms of power consumption, the all-electric machine is much lower than the hydraulic machine, because the machine only starts to use electricity when the machine needs power.
Also, it is composed of servo motors and digital controllers, and there is no traditional hydraulic system of motor and pump, resulting in a noiseless operation.
Jing Day has implemented a formwork structure with high rigidity and low deformation in order to solve the problem of unstable oil temperature, improve the accuracy of clamping force, and improve the yield rate of molded products.
Also, the clamping crankshaft is equipped with fully automatic lubrication to reduce the failure rate of the machine.
Recommended Read: Pioneer Silicone and Rubber Injection Molding Machines for Electric Vehicle Market
After Sales Service
JING DAY's exceptional after-sales service focuses on providing their client's requested spare parts directly and on time. Since their commercially available parts are completely certified by international standards, you will have high-quality and fully functional parts. Welcome to contact us.
Source: PRM-Taiwan BLOG