Double-line Vacuum Type Rubber Compression Molding Machine
JD-HV2 series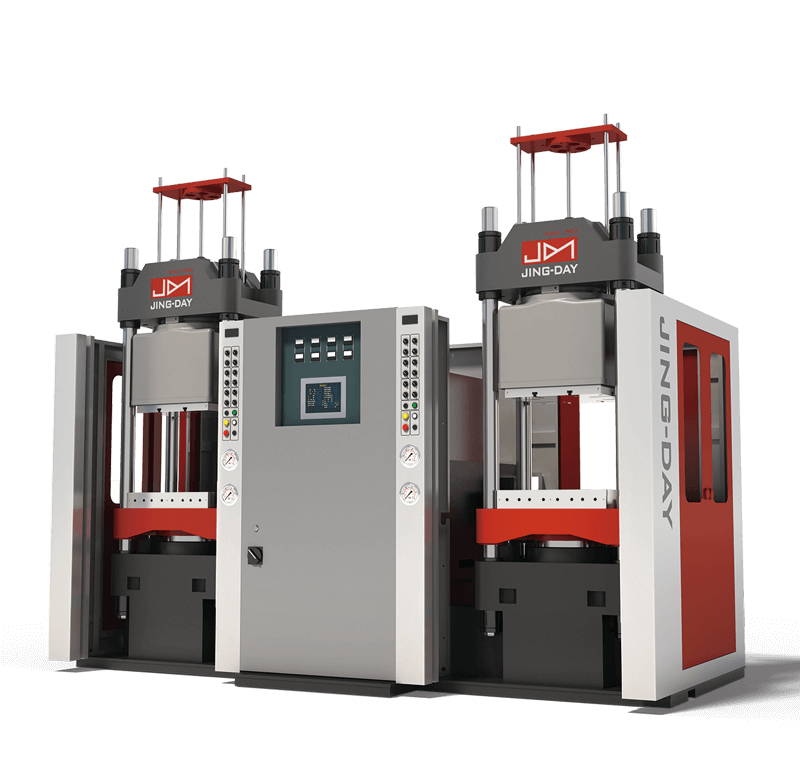 BACK
Features of compression molding machine
The JD-HV2 series rubber compression molding machine designed for double-line production is ideal for the production of making packing O-rings, keyboards, rubber medical products, etc.
PLC and HMI functional control as standard specifications.
The vacuum suction hood provides a highly efficient vacuum suction effect for the entire mold inside the working platen, suction speed of 700HG/2sec. The unit has a simple construction, so it's easy to operate and maintain, with fast mold changing.
Integrated hydraulic circuits provide various pipe functions on the circuit boards, reducing piping to a minimum. The oil cooler ensures the long service life of the circuit valve.
The motion time and several other parameters can be conveniently set on the control panel to meet product variations, ensuring production quality.

Combines two compression molding units in one machine

, which can be operated separately.
While in vulcanization molding operations, the hydraulic pump motor can be set for running, or stopped for power saving.
The electric system is controlled by the PLC controller, allowing for easy operation and accurate adjustment. An emergency switch provides added safety for the mold and the operator.
Specification of compression molding machine
| MODEL | | JD-HV2-150T | JD-HV2-200T | JD-HV2-260T | JD-HV2-300T |
| --- | --- | --- | --- | --- | --- |
| Clamping Force | Ton | 150 | 200 | 260 | 300 |
| Plate Size | mm | 450 x 450 | 550 x 550 | 570 x 610 | 650 x 650 |
| Piston Diameter | mm | 310 | 355 | 400 | 430 |
| Piston Stroke | mm | 320 | 360 | 420 | 360 |
| Max Moid Thickness | mm | 170 | 310 | 250 | 310 |
| Space Between Tie Bar | mm | 550 x 300 | 675 x 365 | 660 x 350 | 795 x 455 |
| Oil Hydraulic System | HP | 7.5 x 2 | 7.5 x 2 | 7.5 x 2 | 10 x 2 |
| Platen Heating Capacity | kw | 12 | 13.5 | 16 | 20 |
| System Pressure | kg / cm² | 210 | 210 | 210 | 210 |
| Oil Tank Capacity | liters | 430 | 520 | 555 | 670 |
| Machine Dimensions | mm | 3120 x 1350 x 2580 | 3390 x 1465 x 2620 | 1905 x 3580 x 3130 | 3650 x 1665 x 3110 |
| Machine Weight (Approx) | kg | 9600 | 12500 | 15000 | 17000 |