JING-DAY: Expert of Medical Silicone Rubber Processing Machinery
2020/11/11
BACK
Expert of Medical Silicone Rubber Processing Machinery
Recently, there is huge demand emerging for rubber and silicone molded products for medical device components due to the epidemic COVID-19, as well as the requirement in several industries such as automotive, electronics, motorcycle and sport equipment industries. The global LSR (Liquid Silicone Rubber) market is projected to grow at a rate of 7.1% by 2027, from USD 2.27 Billion in 2019 to reach USD 4.06 Billion based on the forecast of Reports & Data.
While the demand is escalating, manufacturing silicone rubber processing machinery requires a high level of customization, in-depth knowledge in the manufacturing process to provide excellent solutions to the end-users. Particularly, the recent needs for medical applications such as breathing masks and bags, nebulizers, medical membrane keypads, O-rings, prefilled syringes reveal the importance of skilled manufacturers in this field. Thus, there is a crucial need for LSR injection molding machines which can process medical grade silicones.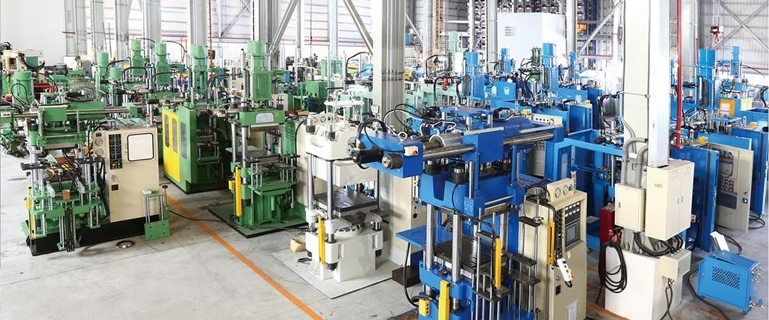 ► JING-DAY is the Professional Manufacturer of Silicone Rubber Processing Machinery
JING-DAY (Jing Day Machinery Industrial Co., Ltd.), as a frontier silicone and rubber injection molding machine manufacturer in Taiwan, stands in the breach to fulfill the requirements of the global medical industry. The company's wide silicone rubber processing machinery portfolio helps to create solutions not only for the medical equipment industry but also many industries like automotive, electronics, motorcycle parts and sport equipment.
Read also: Types of Liquid Silicone Injection Molding Machines: Horizontal vs. Vertical
Full Customized Silicone Rubber Processing Machinery for Medical Applications
Cultivating the results of 30 years of expertise in manufacturing silicone rubber injection molding machinery, JING-DAY missioned to provide fully customized and precise machines to its customers all around the world. To do so, investing 30% of the mechanical production capacity on technology research and development in terms of Industry 4.0, makes the company superior to its global competitor to manufacture fully customized machinery for various industries, particularly the medical industry.


► Medical Application of Silicone Rubber Processing Machinery, Breath mask
JING-DAY's silicone rubber injection molding machines and hydraulic molding machines for the applications of various industries run in 60 different countries including Europe and America today, and market share is growing day by day. Since 80% of the production has been exported to the world, the custom design machines are mostly demanded among JING-DAY's customers.
Today, the regional markets and the industries JING-DAY serves requires high precision and stable production output. As a trustable manufacturer, the company provides a variety of machinery portfolios to the customer needs. The machinery portfolio of the company includes:



HMI and PLC features come as machine standard. Besides, customizable nozzle design helps customers to control material flow and achieve stable outputs. JING-DAY's machines are suitable for natural and synthetic rubber, oil-resistant rubber, heat resistant rubber, and reclaimed rubber. Moreover, the company can also help customers with upgrading old molds to integrate JING-DAY's machines, which saves the customer 20% to 30% of the production and labor costs.




After Sales services, Rubber Processing Machinery Installation and Maintenance




Buying machinery especially during the outbreak is a sensitive process, international buyers have several concerns like the installment of the machinery, after sales services, part and maintenance requirements. JING-DAY is aware of those concerns and continuously serves its customers in many different ways to overcome the obstacles of the outbreak.





► JING-DAY After Sales Service - Transportation of Rubber Processing Machinery




Owing to the company's years of R&D practices, pursuing excellence in the quality, and flexibility of customization; JING-DAY customers around the world experience satisfactory customer service. Moreover, the company has a wide agent web all around the world which plays an essential role in the delivery and installation of machinery, training, maintenance and other after sales services. Thus, the customers of JING-DAY cherish the confidence of their business will run efficiently and profitably.




Despite the obstacles of COVID-19 in the industry, JING-DAY keeps serving its customers with high-quality machinery and flexible customization. To learn more about the company and its products take a look:




Source : PRM E-news Issue 182