C-Frame Rubber Injection Molding Machine
JD-RC series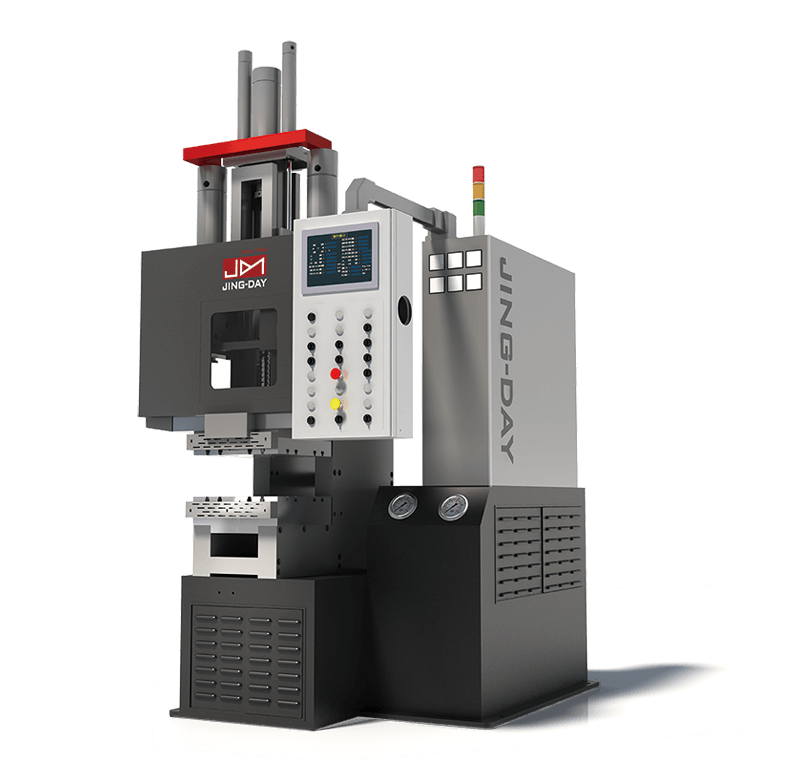 BACK
FEATURES
This c-frame rubber injection molding machine is suitable for natural rubber, synthetic rubber, oil resistant, heat resistant rubber and recycled rubber.
PLC and HMI functional control as standard specification.
C-type structure design, for long strip types, such as doors and window sealant strips, insulation barriers, for product manufacturing convenience.
Specialized nozzle design to prevent material overflow.
Specialized feeding device.
APPLICATIONS
SPECIFICATION
| MODEL | | JD-RC20T | JD-RC30T | JD-RC40T | JD-RC50T |
| --- | --- | --- | --- | --- | --- |
| Shot Volume | c.c. | 100 | 300 | 300 | 300 |
| Injection Pressure | kgf / cm² | 1600 | 1000 | 1000 | 1400 |
| Injection Cylinder Pressure | kg / cm² | 160 | 160 | 160 | 160 |
| Injection rate | c.c. / sec | 65 | 105 | 105 | 140 |
| Screw Diameter | mm | 32 | 32 | 32 | 32 |
| Strip Dimension (T x W) | mm | 6 x 30 | 6 x 30 | 6 x 30 | 6 x 30 |
| Clamping Force | Ton | 20 | 30 | 40 | 50 |
| Plate Size | mm | 400 x 400 | 400 x 400 | 400 x 400 | 400 x 400 |
| Piston Diameter | mm | 70 x 2 | 100 x 2 | 120 x 2 | 130 x 2 |
| Piston Stroke | mm | 320 | 400 | 400 | 400 |
| Oil Hydraulic System | HP | 7.5 | 7.5 | 7.5 | 7.5 |
| Hot Oil Cycling Motor | kw | 0.5 | 0.5 | 0.5 | 0.5 |
| Platen Heating Capacity | kw | 9.6 | 9.6 | 9.6 | 9.6 |
| System Pressure | kg / cm² | 210 | 210 | 210 | 210 |
| Oil Tank Capacity | liters | 200 | 240 | 240 | 240 |
| Machine Dimensions | mm | 1010 x 1100 x 2800 | 1120 x 1300 x 2950 | 1170 x 1700 x 3050 | 1830 x 2250 x 2800 |
| Machine Weight (Approx) | kg | 2500 | 3000 | 4000 | 5000 |
MOLD INSTALLATION & HEATING PLATE DIMENSION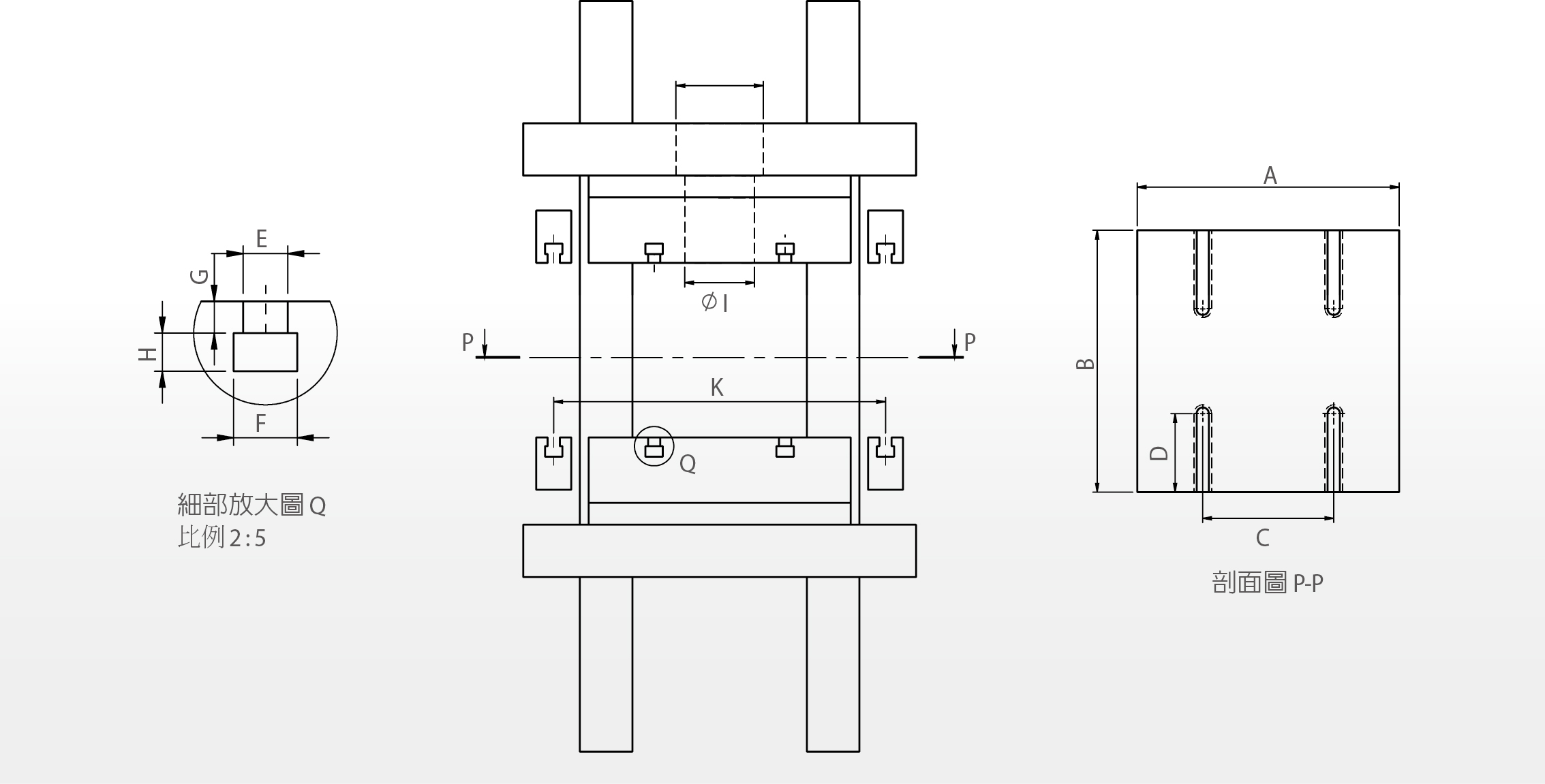 | MODEL | JD-RC20T | JD-RC30T | JD-RC40T | JD-RC50T |
| --- | --- | --- | --- | --- |
| STROKE \ DIMENSION | 320 | 400 | 400 | 400 |
| A (mm) | 400 | 400 | 400 | 400 |
| B (mm) | 400 | 400 | 400 | 400 |
| C (mm) | 150 | 150 | 150 | 150 |
| D (mm) | 90 | 90 | 90 | 90 |
| E (mm) | 14 | 14 | 14 | 14 |
| F (mm) | 20 | 20 | 20 | 20 |
| G (mm) | 10 | 10 | 10 | 10 |
| H (mm) | 10 | 10 | 10 | 10 |
| I (mm) | 100 | 100 | 100 | 100 |
| J (mm) | 100 | 100 | 100 | 100 |
| K (mm) | 450 | 450 | 450 | 450 |